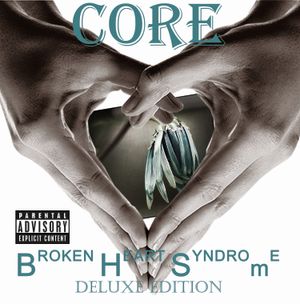 CORE is not your average hard rock band.  Formed in 2003, hailing from South Dakota they are sure to be the next big thing to come out of the Midwest.  For fans
of Coheed & Cambria, Alter Bridge and 10 Years, CORE approach songwriting honestly and are dedicated passionate musicians.  This power trio provides a tight rhythm section that produces a brutal sound, balanced by tender yet powerful vocal harmonies reminiscent of Layne Staley.  Equal parts heavy riffs and delicate acoustics, CORE's music is emotionally charged and unique.
They have opened for popular national acts SHINEDOWN, SEVENDUST, ALTER BRIDGE, CANDLEBOX, BUCKCHERRY, POWERMAN 5000, SALIVA, ORGY, SAUL, VRSTY, TRAPT, RED, SAVING ABEL, POP EVIL, HOLLYWOOD UNDEAD, EVE TO ADAM, CANDLELIGHT RED, SEBASTIAN BACH, EVAN'S BLUE, NEW MEDICINE, CAVO, DAYS OF THE NEW, SEASON'S AFTER, WES BORELAND (of Limp Bizkit, and Black Light Burns), THE DREAMING, CINDER ROAD, DROPPING 
DAYLIGHT, & CHRIS VOLZ as well as many others.
Fall of 2023 will see the release of new music by CORE who have a devoted national following &
are curr
ently in support of their much anticipated 4th Album.
 "Broken Heart Syndrome (Deluxe Edition)" is an ambitious 21 track double disc offering that was unleashed worldwide on Black Friday 2019.  Originally released in 2015, the band wanted to redo the album independently. The result is a blistering 120+ minute rocker featuring the original 11 tracks in a much punchier and in your face mix, as well as acoustic versions of each song stripped naked to their purest form.  As of this release, the response has been more than 900,000 YouTube views with almost 20% of those coming from the song "Daydream Junkie" which premiered on June, 15th 2020.
In 2018 the band was featured in Amazon best selling book "
Underrated Rock Book: The 200 Most Overlooked Albums 1975-2015
".  In November 2021, CORE signed a sync licensing representation deal with five time Grammy-nominated producer and music supervisor, Gary Calamar and Laurel Canon Music Licensing. Gary has overseen music on some of the most acclaimed and popular shows on television including "True Blood", "Six Feet Under", "Dexter", "Entourage", "Weeds", "House" and "Man In The High Castle" (Amazon). Gary's current projects include "Titans"  (HBO Max) and "Three Body Problem" (Netflix) and recently completed "Cobra Kai" (Season 3, Netflix) and "Uncle Frank" (Amazon) written and directed by Alan Ball.
Previously, CORE has independently released "St. Judas Day Parade" in July, 2010 which is featured in the aforementioned Amazon best seller. The singles "Hate Me Harder", Dig", "Live Forever" and "You're So Fake" received nationwide airplay on active rock and college radio stations. In 2007, CORE's debut album "We All Fall Down"  earned rave reviews from TAXI & cdreview.com, citing the songs "Eisoptrophobia", "Confession", and "Calling John Coffey" as favorites.  All albums are available everywhere digital music is streamed and sold.  Physical copies available thru coretunes.com.